India: 600 SolDry units for apricots processing in operation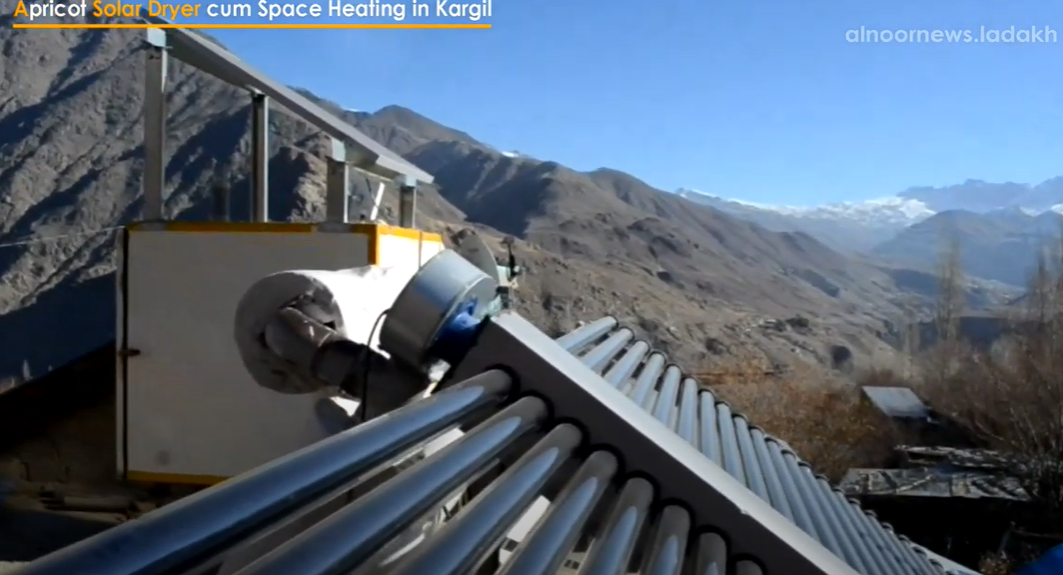 Solar dryers are an excellent investment for farmers drying apricots in India's northern Himalayan region. These systems can have the fruit ready in just 2 days, whereas drying takes about 20 days out in the open. Called SolDry, they each consist of a 5.2 m² vacuum tube collector, a 1 m³ drying space that can hold 100 kg of raw apricots and storage made of phase change material so they can be operated round the clock, even at night. So far, 600 drying units have been installed. By the end of the year, another 400 will be up and running. The units can also be modified with ease to supply space heating in winter and save on buying firewood. The above photo is taken from the following video: https://www.youtube.com/watch?v=p5-JTLjLzsU
Most solar dryers in India are installed in Ladakh, a region with high daily irradiation levels of up to 6.5 kWh/m² on about 150 days a year. On average, farms in Ladakh produce 8,000 tonnes of one of the world's most exquisite varieties of apricots a year. Cultivation is only possible in summer, and farmers have only a short window for picking, processing and transporting the fruit.
Most of them say that not being able to pick or sell products within about two months will cost them more than 50 % of the harvest. Adverse weather and insects because of open-air drying may lose them even more.
As a result, India's Ministry of the Food Processing Industries began exploring the option of using solar energy to speed up the drying process and reduce the fruit's moisture from 85 % to 15 %.
Under the prime minister's reconstruction plan, the ministry commissioned the National Institute of Solar Energy (NISE) to develop a prototype solar thermal air dryer. NISE's research and development department came up with a vacuum tube collector system that costs about INR 250,000 (EUR 3,000) and pays back in three years even without incentives, NISE claims. As Ladakh is still underdeveloped, farmers received a grant of 90 % of the investment costs to pay for the systems.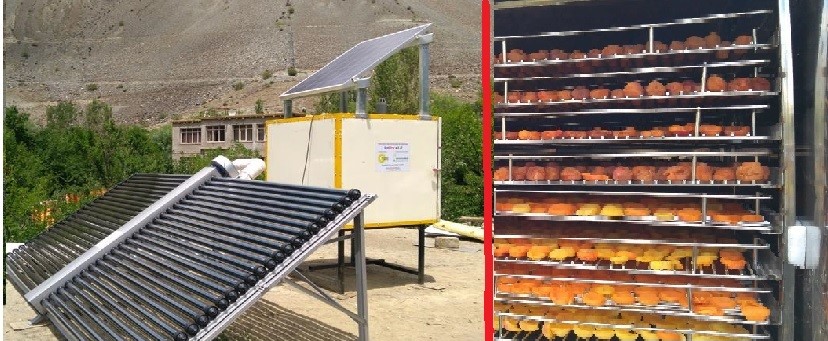 The 5.2 m² vacuum system delivers an up to 60 °C difference in temperature between the air inlet at the bottom of the collector and the outlet at the top. PV modules power the fans of this off-grid unit as well as the drying chamber (right), which can store up to 100 kg of fruit per batch.
Photos: NISE