India's first laboratory for testing vacuum tube collectors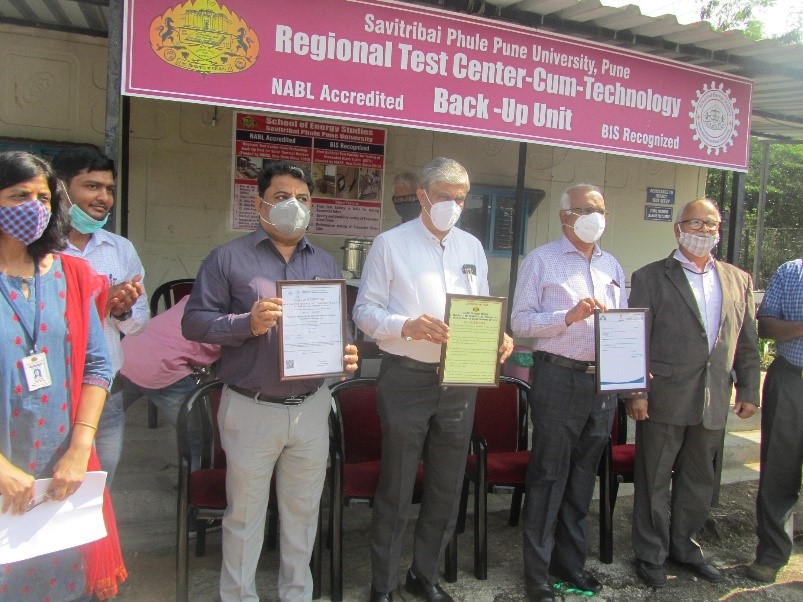 The first regional test centre for vacuum tube collectors was inaugurated on November 10 at Savitribai Phule Pune University (SPPU) in India. The laboratory has been accredited to test and certify vacuum tube collector systems in accordance with Bureau of Indian Standards. India's solar thermal market with an annual collector area of 1.5 million m2 is dominated by vacuum tube collectors (85%), which are increasingly being used for industrial solar heat projects.
Photo: Jaideep N. Malaviya
At the inauguration of the test laboratory, the Vice Chancellor of the SPPU, Prof. Nitin Karmalkar, said that such test facilities will benefit the industry to increase their business with qualitative systems and that they will further strengthen the partnership between industry and the institute to drive further research. The establishment of such a laboratory for vacuum tube collector systems was a long-standing demand of the solar thermal industry. The testing will enable the standardisation of solar thermal products and guarantee quality standards of the mostly imported vacuum tube collector systems.
| | |
| --- | --- |
| IS Number | Product |
| IS12933(Part1):20G3 | Solar Flat Plate Collector |
| IS12933(Part2):2003 | Solar Flat Plate Collector (Part-2)-Components |
| IS13429(Part1):202Q | Solar Cooker |
| IS13429(Part2):201S | Solar Cooker Component |
| IS 16368: 2015 | Test procedure for thermosyphon type domestic solar for hot water heating system |
| 1316542:2016 | Direct insertion type storage water tank for all-glass evacuated tubes solar collector |
| 1316543:2016 | All-glass evacuated solar collector tubes |
| IS 16544 :2Q16 | All-glass evacuated tubes solar water heating system |
List of solar thermal system tests available at SPPU's regional test centre according to the Bureau of Indian Standards
Dr. Sandesh Jadkar, Director of the RTC, SPPU, said: "With this accreditation, we will now be able to offer world-class testing solutions and facilitate international solar thermal system manufacturers who wish to enter the Indian market."
Surendra Kumar, Chairman of STFI, welcomed this development and expressed, that "such a laboratory will ensure the quality of the systems sold in the country. In addition, the government should make it mandatory to only allow BIS-approved solar collectors and solar thermal cooking systems in the future.".
Organisations mentioned in this article:
http://www.unipune.ac.in/snc/school_of_energy_studies/es_webfiles/rtc.htm