Webinar on 10th July: The Heat is On – SHIP potential in India
In 2019 solar heat capacity additions reached 251 MW around the world, but only 2 MW were installed in India. Its industrial sectors account for more than 50% of the country's energy needs and a lot of these energy sources must be imported, either as oil, gas or high-quality coal. However, many industries in India use only low to medium temperatures of below 400 °C, which SHIP can easily provide. To spread the information about the huge potential of solar heat technologies in India's manufacturing businesses, Solar Payback cooperates with the Spanish agency Ata Insights to jointly organize a webinar about the recently published study Solar Heat for Industry: India.
The 1 hour webinar will take place on Friday, 10th of July 12:30 PM Central European time / 4 PM Indian time. Register free of charge and learn from six dedicated experts about the Indian solar industrial heat market: Jan Knaack, Leader of Solar Payback Project, Dattatreya Ghanekar, Managing Director of Gokul Dairy, India, Jawahar Babu, Managing Director of Unique Biotech, India, Subramaniam Chandrashekar, Deputy General Manager of the Indian National Dairy Development Board (NDDB), Belén Gallego, CEO at Ata, and Jaideep Malaviya, who represents the Solar Thermal Federation of India, the local Solar Payback partner.
Join the webinar and
get an overview on the opportunities of solar heat in India, considering its energy need for industrial heat and its policies that are driving this technology forward
learn about the role of renewable service companies in accelerating market development
listen to real case studies for

SHIP

and its economic feasibility
hear expert advice on new policies that could support a sustainable

SHIP

market in India.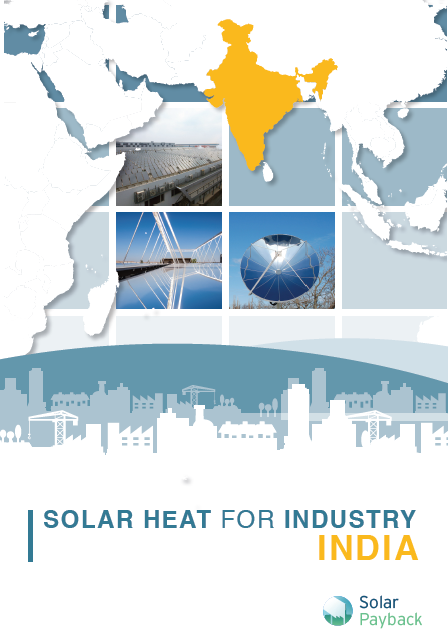 "As the world top producer of dairy, India thus is in a very good position to make use of its abundant sunshine to cover the dairy industry's heat needs."
Download the 72 page report here.