Mexico: The multiple ways to promote solar heat
The first-ever Intersolar Mexico, which took place in early September, offered a platform to promote solar heat in more ways than one. On the third of this month, a Solar Heat Workshop drew in over 40 industry professionals (see photo) and Solar Payback project results were presented. In addition, a film crew from Germany produced a 5-minute video on Mexico's market for industrial solar heat. The video, which is available in English, German and Spanish, includes a visit to parabolic trough collector manufacturer Inventive Power and a dairy that is using the manufacturer's technology.
"We had an interesting mix of attendees at the Solar Heat Workshop," said Marisol Oropeza, Director of matters.mx, the firm which organised and moderated the conference. "We were joined by representatives for several companies that want to branch out into solar heat and by representatives for potential customers, such as mining corporation Grupo Mexico," she added. Each speaker at the workshop introduced one of the solar thermal support schemes offered in the country. Among them was Solar Payback project that was introduced by Kira Potowski from Camexa, the German-Mexican Chamber of Commerce and Industry.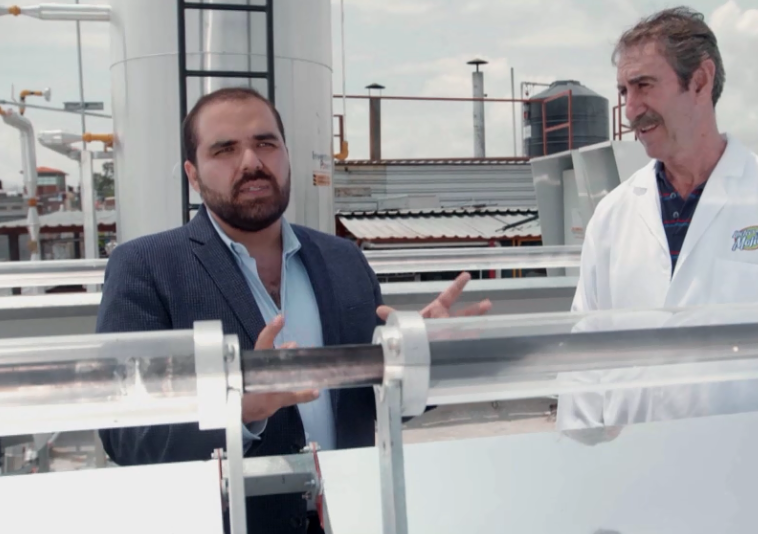 In this photo, Aldo Agraz Huitrón, Technical Director at Inventive Power, and Rigoberto Mojica, owner of cheesemaker Abodera (from left), stand between the parabolic trough collectors on the roof of Abodera's production hall.
Photo: Screenshot taken from Global 3000's short film titled Mexico: promoting solar thermal energy
A German film crew working for Global 3000 – The Globalisation Programme of public radio station Deutsche Welle used the event to shoot a short film about the flourishing industrial solar heat market in Mexico. The crew visited a family-run business named Abodera, a solar heat customer on the west coast of the country, together with the managers of technology supplier Inventive Power. The company uses 40,000 litres of hot water at a temperature of 70 °C or more to produce 40 tonnes of cheese a week. In the film, the business's owner, Rigoberto Mojica, explains he used to spend 80,000 Mexican pesos (roughly EUR 3,700) per month on LPG. After his company started up the 120 m2 field of parabolic trough collectors, energy costs are now 30 % less.
Further into the film, Ángel Mejía, Managing Director of Inventive Power, explains why every industrial solar heat project is unique: "It takes time to optimise the business processes and bring about real differences in energy consumption and costs." His business has already won over more than 100 commercial customers – manufacturers and hotels – and all of them are now enjoying the benefits of solar heat.